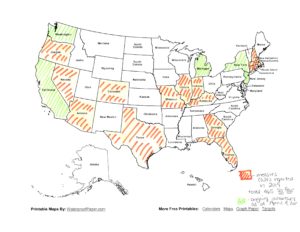 Did you know?
Public health Officials declared measles eliminated from the United States in 2000.
Unfortunately, despite this accomplishment, we have seen this preventable disease recur from a low of 37 people in 2004, to a high of 667 people in 2014.
CURRENTLY, WE ARE ON TRACK TO SURPASS THE PREVIOUS HIGH REPORTED IN 2014.
The reported total cases of measles to date (Jan 2019- Apr 4, 2019): 465.
Cases of measles have already been reported in our bordering states of Kentucky, Indiana, and Michigan.
There is a current measles outbreak in Michigan, with a total of 41 cases so far this year, two cases were diagnosed this past week.
Measles is one of the most highly contagious viruses and is spread through the air when an infected person coughs or sneezes.  Virus-containing droplets can remain in the air for several hours, and clinical attack rates are approximately 90% among those who are unvaccinated against measles.
Measles is also highly preventable.  The MMR vaccine is very safe and effective. One dose is about 93% effective in preventing measles; two doses are 97% effective.
We strongly encourage all our patients over the age of ONE to be vaccinated against this highly contagious virus.  We offer walk-in hours for vaccines: Monday-Friday from 9:30-11:30am and 1:00-4:00pm.  Please note, your child needs to have been seen for a yearly well-check prior to vaccination.